The Virgin of Zapopan Visits Chapala, Mexico
Mexico's unique cultural jigsaw puzzle is on display at this annual procession of dancers, masked characters and musicians.
Each year on the second Sunday in July, the Virgin of Zapopan is escorted from her home in the Basilica of Our Lady of Zapopan to Chapala, some 35 miles away on the shore of Lake Chapala. She finds a special reception from the people here, who view her as the patroness or lady of the lake.
The wooden statue, which is 486 years old, is one of Western Mexico's most important religious icons. After it was made, a Franciscan friar named Antonio Segovia hung it around his neck and carried it between the small towns in the Central Mexican countryside, converting thousands of the indigenous locals to Catholicism.
Today the Virgin of Zapopan spends much of her time being shuttled from city to city, not only across Mexico but also making international jaunts to the United States.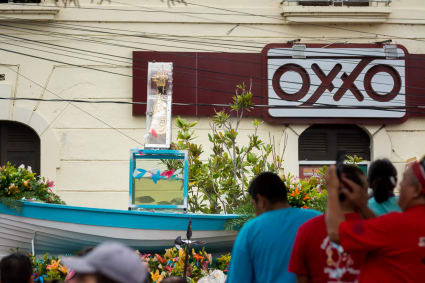 Everywhere, she is accompanied by these wonderful Aztec dancers, plus dance groups representing other indigenous groups in Mexico.
And I can't get enough of them.
That's why, though I went to Chapala this month to take photos of the fiesta for Our Lady of Zapopan, I knew I would mostly be taking photos of the feathered headdresses, leather outfits, drums, incense, skulls, nightmarishly masked creatures — all the stuff that screams, "This can't possibly be Catholic!"
So here are 41 photos of Aztec dancers, plus another 20 images of related happenings at the festival.